2021 ModCad Workshop
Workshop material
Aims
A rational and mathematical understanding of the science behind cleaning and decontamination problems
Cleaning and decontamination problems are ubiquitous in all human activities: from household cleaning to maintaining hygiene standards in the food and pharmaceutic industry, and safe removal of toxic materials. It is a universal topic of national and international importance. There is also an increasing need to rationalise scientifically the underlying physical, chemical and biological processes involved in cleaning and decontamination.
The aims of the 2021 Workshop on Cleaning were:
(i) To map expertise and current activities in the area of cleaning and decontamination in the UK and beyond, in all relevant disciplines, and particularly those where quantitative methods are employed as this supports the transfer of solutions or approaches from one field to another.
(ii) To provide a forum where industrial and governmental stakeholders can share aspects of future needs, both immediate and long term.
(iii) To identify strategic needs for research, which could take the form of modelling methods, measurement techniques, socio-economic trends, or metrics for assessing and quantifying the impact of cleaning and decontamination operations and challenges.
(iv) To ensure that the workshop materials will be freely available as an archive for all workers in the area.
Overview
The workshop took the form of a 2.5 day online meeting, run on the Sococo platform with keynote presentations on Zoom, from 20th-22nd April 2021. A follow up hybrid meeting was held on 20th September 2021 at Jesus College, Cambridge, with participation in person and online.
Contributed talks & posters
Along with the 12 keynote speakers above, 17 UK and international scientists presented their latest research findings on cleaning and decontamination problems. The short talks and posters listed below show the breadth and depth of the scientific research related to cleaning and decontamination.
---
Interfacial instabilities during microchannel cleaning with a viscoelastic fluid
Advances and challenges towards a predictive model for cleaning very thin viscoplastic soil layers using impinging liquid jets
Usability of results from micromanipulation experiments to get critical loads for adhesive and cohesive removal of soils
Droplet dynamics on liquid infused surfaces
Durham University
Characterizing Hazard Mitigation Efficacy for Different Agent Distributions
U.S. Army DEVCOM Chemical Biological Center, Aberdeen Proving Ground, MD
How a water drop removes a particle from a hydrophobic surface
Max Planck Institute for Polymer Research, Mainz, Germany
Green nanomaterials for environmental decontamination
The University of Sheffield
Roles of surface wetting and bulk mass transport in the contamination of polyurethane-based coatings by distilled mustard blister agent, HD
U.S. Army DEVCOM Chemical Biological Center, Aberdeen Proving Ground, MD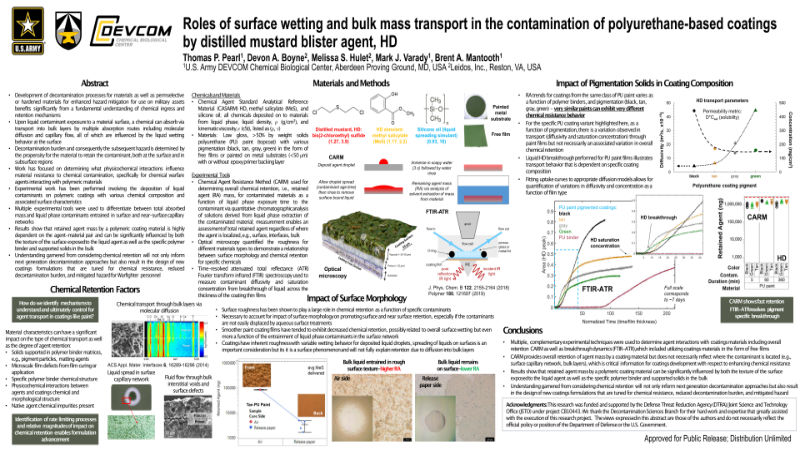 Development and Application of Model for Decontamination of Polymer-Based Materials
U.S. Army DEVCOM Chemical Biological Center, Aberdeen Proving Ground, MD
Robots, Sensors and Artificial Intelligence: How can digital technologies improve cleaning processes?
University of Nottingham
Concept for a self-learning adaptive tank cleaning strategy
Fraunhofer Institute for Process Engineering and Packaging (IVV)
Cleaning by microbubbles generated by fluidic oscillation with and without plasma injection
The University of Shefield
Workshop outlook
The workshop has provided a survey of the expertise and know-how across scientific disciplines related to cleaning and decontamination and its modelling. Many applications share the same underpinning fundamental science, which is complex and multidisciplinary. Some of the science is quite advanced, but there are also clear gaps both at fundamental level, and in their implementation. The key outcomes of the workshop are:
A roadmap document which identifies the state-of-the-art, and proposes a roadmap to address the key knowledge gaps on cleaning and decontamination science and how to implement them in practice
The website How clean is clean? presents the science behind cleaning. Its resources are both for the general public and experts in the subject area. It will be updated with new resources over time. It will also feature key events on the topic, such as conferences and workshops.
Organisers & Sponsors
The Workshop was supported by an EPSRC Workshop Grant (EP/T033991/1 & EP/V000012/1)
Organisers
Dr Graham Christie (University of Cambridge)
Prof. Peter Fryer (University of Birmingham)
Dr Ian Hall (University of Manchester)
Dr Julien Landel (University of Manchester)
Prof. Kath Whitehead (Manchester Metropolitan University)
Prof. Ian Wilson (University of Cambridge, Host Organiser)
Special thanks to…
Sponsors